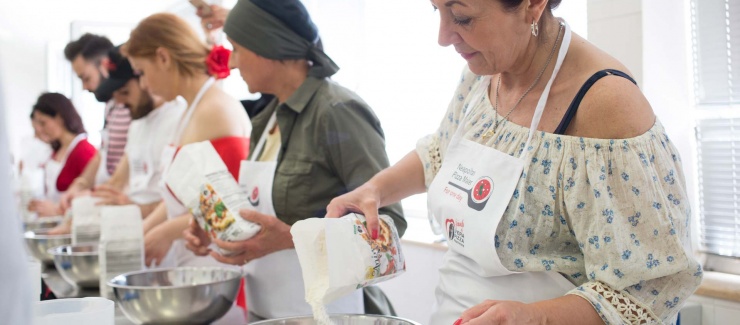 Our Neapolitan cooking courses
Neapolitan cuisine boasts an ancient history dating back to the Greek period. History that inevitably over the years has been enriched by cultures and traditions deriving from the various dominations suffered by the city. Especially Spanish and French were to contaminate the culinary tradition ... the rest made the imagination and creativity of the Neapolitans. On the other hand the Neapolitans who emigrated abroad, brought with them the typical dishes, thus exporting a tasty and highly appreciated cuisine, to the point of being recognized in the world as a balanced and healthy Mediterranean Diet.
Neapolitan cuisine places first the quality of basic products such as extra-virgin olive oil, tomatoes, basil, mozzarella, pasta, peppers, aubergines, courgettes etc ... the most famous Neapolitan dessert by right is the baba ' , the king of the Neapolitan Sundays, followed by the sfogliatella, a classic of the Neapolitan pastry and the pastiera, a cornerstone of Neapolitan cuisine.
We are pleased to offer you a new experience dedicated to food lovers, who want to discover the local flavors and learn how to cook the typical dishes of Neapolitan cuisine. A fast course of traditional cuisine is for you. Book your cooking lesson, click on the following link
More detail